Online Backup
World NZ now has an online backup product.
Experience true peace of mind. World NZ's automated backup eliminates problems caused by traditional methods. Whether you have one or many thousands of users, World NZ Online Backup easily scales to secure the smallest and largest businesses.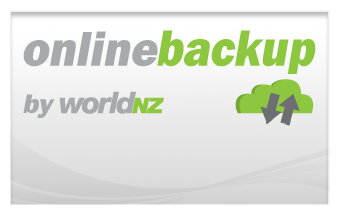 You won't give backup another thought
World NZ Online Backup protects your corporate files against loss and damage without any effort from your side. By preserving your data in multiple state-of-the-art storage facilities nationwide, World NZ Online Backup protects you against location-specific disasters. Your data is encrypted for privacy using 256-bit AES, and then transferred over the Internet from your system to our storage centers using 1024-bit Secure Sockets Layer (SSL) encryption. Once in storage, your data is monitored 24/7/365 by expert technicians.
Manual methods are risky and costly
CDs/DVDs, USB hard drives and tapes are easily scratched, lost or stolen. Slow and time consuming, they burden your IT staff and limit your total storage capacity. Sorting through tapes and CDs to restore your data creates costly delays in company workflow.
Save time and money
Don't waste your team's time and budget on manual backup methods. World NZ Online Backup runs automatically on the schedule you choose. Enjoy no startup fees and only pay for what you use - a low monthly fee per server and per GB of data stored.
The only second-by-second protection
Hard drive failures happen within moments, so you can't afford to backup only once a day. World NZ's continuous technology backs up files the second they are created or modified, 24/7/365. Ever overwrite a file or forget to hit save? World NZ Online Backup takes 'snap-shot's of your work so you can go back and find the right version.
Efficient is smarter
World NZ's acute detection software only preserves changes made since your last backup, so you don't waste time or space resaving files that haven't changed. We ensure that backups are as condensed as possible to save you the bandwidth and money you would have spent on bigger storage.
Get protected today
With one call to 0508 48 9675, our technicians can have you up and running on New Zealand's most reliable backup software today, all done remotely. World NZ Online Backup automatically supports any database, application and operating system you use, so you and your IT administrator can expect to get started effortlessly.
Companies without proactive backups are likely to go out of business within 2 years of a major data loss.*
* Study by the National Archives and Records Administration